Best Places to Travel to in October 2015
Here are our top travel picks for October 2015.
It's not too late to have an amazing October adventure. Whether you want to bask in the sun, dip your toes into water or enjoy in the fresh mountain air and snowy slopes – we have the right pick. You could spin the globe and pinpoint the location if you are extraordinarily eccentric, but if that's not the case, here are the top 7 places you could visit this October and have a blast.
Vasterboten, Sweden
The first on our list is Sweden and Vasterboten. Apart from skiing and amazing sights, nothing beats the dog sledding and absolutely perfect starry nights you cannot enjoy in the bustling cities. Guitar heroes and maestros - this is the place to be. Imagine the golden collection of more than 400 Fender and Les Paul guitars in custom designed cases. If you prefer active and less-crowded vacation, you will find everything you are looking for right here in this Swedish county – hiking, skiing, natural parks, nature reserves and so much more.
Vasterboten looks like it came straight out of Jack London novels. Who knows, maybe you will even befriend a White Fang?
source: http://www.visitvasterbotten.se/en/topics/activities/dogsled/the-call-of-the-sorsele-wild/
Zermat, Switzerland
Next, we suggest you visit Zermatt, Switzerland. Why? Let's just say chocolate, Matterhorn, chalets and great outdoors. You can literally get into the belly of the mountain and come out in Sunnegga in matter of minutes. Underground funicular takes you to the top of the hill where you can enjoy the view, grab a bite to eat or continue to cable car stations and carry on with your adventure. If you are into hiking, you shouldn't miss the 5 Lakes Trail. Ski lovers all agree that this is the place to be due to amazingly prepared slopes. If you take the Gornergrat alpine cog train, you can enjoy in the breathtaking view of 13 mountains and 7 glaciers.
source: https://benvivtravels.wordpress.com/2011/12/25/switzerland-day-3-christmas-day-gornergrat/
source: http://www.summitpost.org/matterhorn-il-cervino-skyline/386897
Cuba, Caribbean
For those who are looking to migrate to a warmer climate, run away from snow and rain and dip your toes, and the rest of your body in soothing crystal clear waters. We are talking about Cuba, of course. A place with a soul, endless white sandy beaches and hospitable people who dance their worries on the streets. If you are looking for great coral reefs and scuba diving experience, look no further than Cayo Coco. Playa Paraiso is aptly named a paradise – turquoise shallow waters and picture-perfect sunsets. But there is more to Cuba than its beaches. Check out the Old Havana, chat with habaneros, visit historic sites that are part of the UNESCO world heritage, and of course - have some rum. There are several horseback riding tours, a Zoo, aquariums and dolphinariums, nature hikes and trails and all sorts of watersports. Cuba at night is something you have to immerse yourself into. Clubs and bars are everywhere. Casa de la Musica gathers hundreds of dancers that move to the Cuban beats, great performances adorn the place and live music gives you the chills. Disco La Cueva – electro/reggaeton club nested in a cave is a unique clubbing experience. Bring out your dancing shoes, or sit back and drink a Canchanchara – you are in Cuba after all!
source: http://cayoguillermoholidays.blogspot.rs/
source: http://www.cubatravel.tur.cu/en/modalidad-ciudad
source: http://creativelunatics.com/category/north-america/cuba/
Tunisia
Onwards on our seaside trail, next stop is Tunisia. A place that is popularly called the Tunisian Saint Tropez, Hammamet is where you can bask under the sun and enjoy various outdoors activities and party late in the evening. The Medina (old city) has been there since the 1500's, and is worth visiting if you want to immerse yourself in tradition, local culture and history. Sousse has plenty of museums and places for shopping, apart from its sandy beaches of course. Ribat is a must-see for Monty Python fans since this was their popular filming location. But, there is no point in visiting Tunisia if you haven't been to Tunis! For hundreds of years it has been under the control of the Phoenicians, Ottomans, Germans, Arabs, Spaniards and French, so today it represents a place where all these cultures collide and create a mosaic of old and new, western and eastern. Visit Tunis' Medina and no matter what you are shopping - haggle away, they love it.
source: www.maktaris-travel.com
Prague, Czech Republic
If you aren't looking for sun nor snow, but for a bustling European metropolis, we have a perfect place in store. Prague has lots to offer – great streetfood, splendid outdoors, beautiful Gothic architecture and modern amenities. It's a hometown of one Kafka statue, Astronomical clock, the towering St Vitus Cathedral, street artists, gift shops. Charles Bridge is one of the most beautiful stone bridges in the world and offers a splendid sight. On top of the Dancing House you can enjoy in the panoramic views and sip on refreshing drinks. Don't skip the castles, especially the "Pear of the Renaissance" - Cesky Krumlov's World Heritage-listed castle that screams picture-perfect fairytale. There is an entire Castle District! Prague has plenty of nightlife locations, bars and clubs you could visit. Don't miss the guard replacement that happens on every full hour.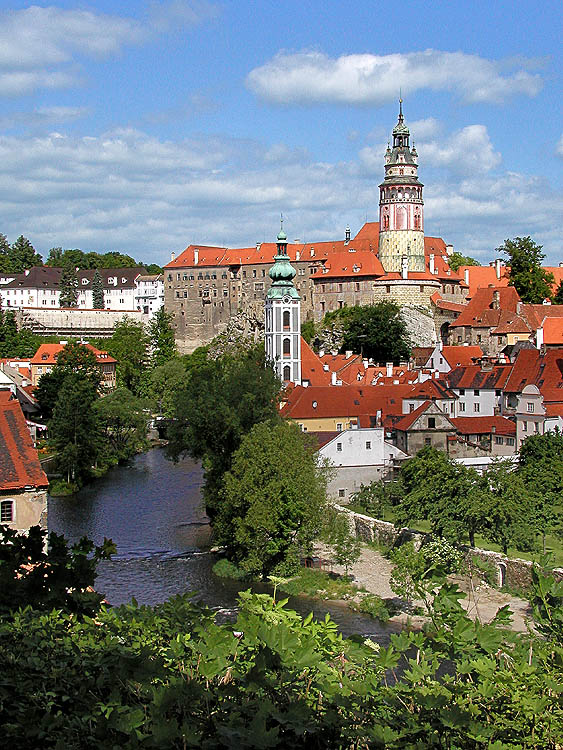 source: www.ckrumlov.info
source: https://en.wikipedia.org/wiki/St._Vitus_Cathedral
Istanbul, Turkey
Amazing place you can visit year-round, but it's less crowded in October all the while the weather verges on the pleasant, warmer side. The reason why we chose Istanbul is simple – it has lots to offer and is a confluence of two very distinct and diverse cultures, a meeting point for the East and the West. History and culture greet you with each step taken, and you simply cannot leave uninspired and amazed. Breathtaking Aya Sophia, former church and mosque and now a museum has artifacts starting from as early as the 9th century. Don't forget to haggle at the Bazaar District. The Grand Bazaar is aptly named due to its size and offer, and it's surrounded by beautiful hamams, tea gardens and nargile bars. If you cross the Galata Bridge, you will easily find Miniaturk Park with its miniature artifacts and models. If you want a relaxing experience, try out the Aga Hamami bathhouse – tea, massage, steam room, baths and great value for money.
source: http://www.nevworldwonders.com/2013/07/preview-hagia-sophia.html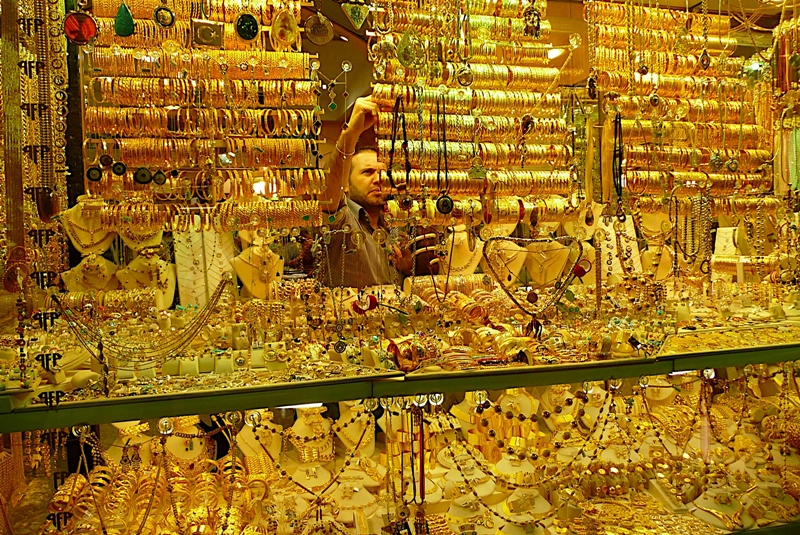 source: www.circleistanbul.com
Lisbon, Portugal
Rich in history, preserved architecture, and splendid sights – what's not to like? Pleasant climate is great for walking tours. There is a beautiful aquarium Oceanario de Lisboa presents aqualife in natural setting, with plenty of species. Chiado is an upper class district with a city square, churches, museums shops, cafes, and conveniently located metro station. If you want to see a panoramic 360 degree view of Lisbon, you can climb on top of the Arco Triunfal da Rua Augusta, an impressive triumphal arch overlooking the royal part of Lisbon. Next to it is a large square, Praca do Comercio where you can bask in the sun, and join in the chat with locals and tourists alike, sitting on the steps of the Cais das Colunas. If you are looking for a great night out, head to the Barrio Alto District where you can choose out of many bars, pubs and clubs. It's a cobblestone area so we advise you wear flats and avoid high heels. If you want to get lost in the maze with numerous small shops, cafeterias, hand crafted goodies and Fado shows in the evening. At the top of the hill is a magnificent and excellently maintained Castelo de Sao Jorge that offers another panoramic view of the Lisbon.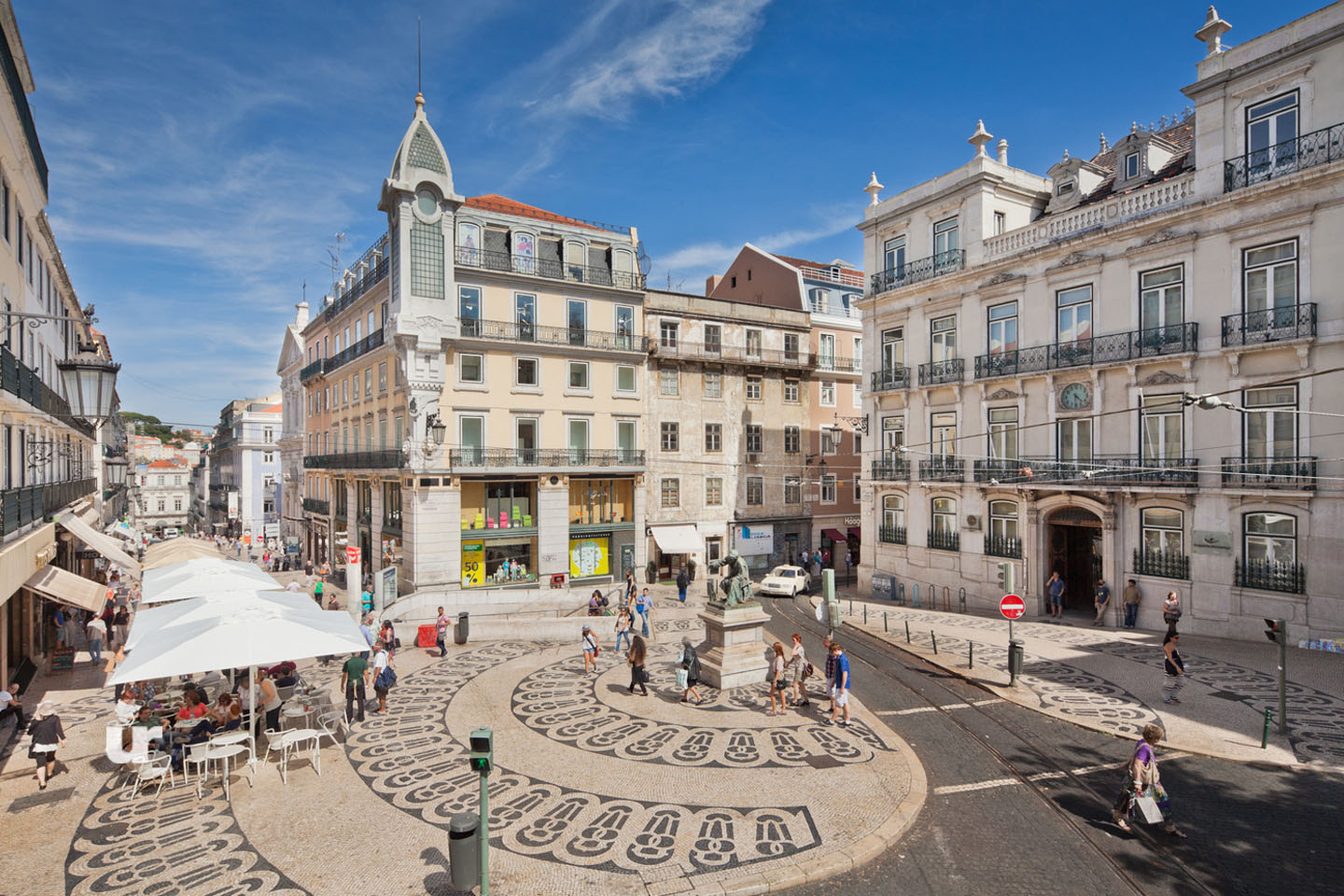 source: www.thetravellingsquad.com
source: http://lisboadiarios.blogspot.rs/2010/04/cais-das-colunas_2628.html
source: http://lisboadiarios.blogspot.rs/2010/12/cais-das-colunas-com-por-do-sol-um.html
tags: best place to travel in october best place to travel travel tips